Jun 3, 2022
SEC 2022: great results for this first edition
SEC-Solar Exhibition and Conference at Rimini Fiera, the three-day event dedicated to the solar energy industry and its supply chains, held simultaneously with ForumTech by ITALIA SOLARE, has ended successfully.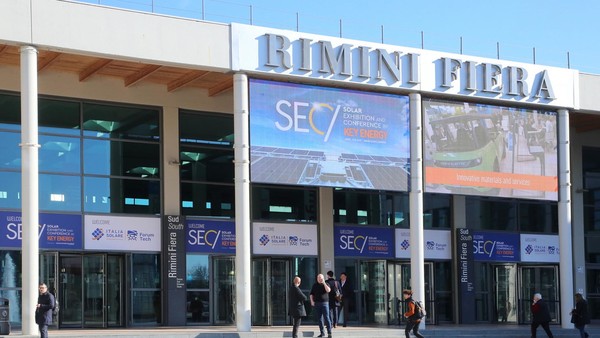 The first edition of Solar Exhibition and Conference by Key Energy, the Italian Exhibition Group's three-day event dedicated to the solar and photovoltaic industry, held at Rimini Exhibition Centre, closed a few days ago with results beyond expectations.
The event proved to be the qualified and professional response to the Solar Industry's current needs.
It developed within a rich exhibition area and hosted numerous conferences, meetings and debates with experts and exponents of the sector, in a national and international scenario in which new political-economic factors are unfolding and in which energy procurement is of the utmost importance.
In this context, the event provided a focus on one of the central issues for decarbonisation and the global economy, intercepting what is currently one of the hottest sectors: the energy transition towards greater use of renewables.
Europe's current decarbonisation policy, geared also towards curbing the cost of energy, shows that solar energy has a particularly important role to play. It is one of the most easily usable renewable energy sources and can - with the right mix of resources - compensate for any reduction in dependence on gas.
From utilities to mobility, the amount of solar generated energy can be increased rapidly. And, according to the operators present, Italian Exhibition Group (IEG) has successfully catalysed this priority by updating its exhibition offering to suit a market that requires specific skills.
The results of the first edition of SEC

The results of this first edition went beyond expectations, and operators in the sector were given a real opportunity to network, exchange know-how and hold meetings with profiled operators.
The spotlight was on systems, products and components, as well as the latest solar technologies and infrastructure.
This was an innovative format focused closely on the needs of solar communities and companies. The event supplied practical answers to an economic sector that is responsible for leading the energy transition process in our country, engaging in dialogue with the most significant international experiences.
During the Solar Exhibition and Conference, those in attendance were able to:
compare practical solutions to competitiveness and learn about the best technologies for energy communities;
meet the key players of the sector and develop new international commercial relations;
receive updates on products, services and accessories for the respective technology chains.
Conferences and workshops

The conferences and workshops organised with the supervision of the Key Energy scientific board, led by Professor Gianni Silvestrini, were well attended and appreciated. They turned out to be networking accelerators: from small municipalities to energy communities for industry, to agrophotovoltaics, combining arable land and energy procurement, via the major topic of permitting and PPA to e-mobility, to the opportunities represented by the African market for Italian companies.
All of this was made possible partly thanks to the participation of ANCI Emilia-Romagna, ANIE Energia, ANIE Rinnovabili, Borghi più belli d'Italia, Confagricoltura, Coordinamento Free, Elettricità Futura, ENEA, ETA Florence Energie Rinnovabili, FIRE, IBESA, ITALIA SOLARE, Kyoto Club, Legambiente, Motus- E, Res4Africa, Solar Power Europe.
IEG was unanimously recognised for having fulfilled the function of community catalyst for all the supply chains involved, having exposed the distinctive features of each sector, with a profile that will be extended to the entire Mediterranean basin.
ForumTech by ITALIA SOLARE

ForumTech by ITALIA SOLARE took place at the same time as SEC and tackled extremely topical issues, ranging from modules, inverters, accumulations and system balances to green hydrogen, offering a unique space for comparison to the entire community representing demand (from energy-intensive companies to small municipalities), energy suppliers and trade associations. A real marketplace in which to act to reduce electricity bills and speed up independence from natural gas imports.
SEC and the extensive experience of Ecomondo and Key Energy

SEC is an event that boasts in-house expertise developed over 25 years, initially with Ecomondo and then with Key Energy.
SEC has everything it takes to become a reference event for solar power in Italy. Companies need a place to display their products and services and to find a technical moment of comparison. The signs are comforting: April will mark the first terawatt of installed power in the world. The future is just around the corner.
The upcoming appointments of the renewable energy community will again be held at IEG's Rimini Exhibition Centre in November 2022 with Key Energy and again in Rimini in spring 2023.